Archive for November, 2008
It's amazing how early astronomers were able to keenly observe the stars and the neighboring planets with near-accurate calculations considering that they don't have any instruments aside from their eyes. Imagine them observing the sky for years and knowing exactly where the stars are located. It was when something seems out of place that they start generating conclusions.
During the 1500′s Nicolaus Copernicus theorized that the Earth and the other planets revolves around the sun, contrary to the belief that the Earth is the center of the solar system. He provided a mathematical evidence that suggests the sun to be the center of the solar system. This is an amazing theory that was formulated two hundred years before the telescope was invented.
Tyco Brahe, a Danish astronomer who made an accurate calculation of the position Mars, aslo 200 years before the telescope was invented. He calculated that Mars is within 4 minutes of arc. He formulated this theory in his observatory in Hven, near Coppenhagen.
1600 – The 1600′s was a difficult time for scientists. The church was very particular in their beliefs and are not accepting any changes. Any theory that contradicts the churches beliefs are shrugged and any person contradicting the church is persecuted. Just like Galileo Galilei who was a believer of the Copernican theory. Galileo published a book called Siderius Nuncius (Starry Messenger), which was in contradiction with the church's beliefs, and got tried and found guilty of heresy. Galileo Galilei was also the first scientist to have observed Mars using a telecope.
1609 – Johannes kepler publishes Astronomia Nova, which contains the laws of planetary motion. In his first law, based on brahes findings, he calculated that Mars has an elliptical orbit. In contrary to the belief that all orbits must be circular.
1659 – Christiaan Huygens theorized that Mars also has a 24 hour period. This is because during his observations, he saw a spot on Mars that seemed to appear at the same time of the day. Huygens was also the first to notice the southern polar caps in 1672. In 1698, Huygens published the book Cosmotheros which details the components needed for a planet to support life. It was also on this book that he explored the possibility of extraterrestrials.
1666 – Giovanni Cassini determines Mars' day period as 24 hours and 40 minutes.
1700 – During this time scientists enjoyed greater freedom in exploring the solar system. Newton built the first reflector to be used in a telescope. Sir William Herschel, who was an innovator, realizing that larger telescopes are hard to manage built one for himself. He created some of the most advanced telescopes during that time.
1704 – Giancomo Miraldi discovered white spots in Mars. In 1719, he correctly thought if the white spots were ice caps.
1727 – Jonathan Swift's Gullivers Travels, talks about 2 Martian moons. It could be just a coincidence but we know for a fact that Mars does have 2 moons.
1777-1784 Sir William Herschel, using the telescopes he built, studied Mars and believed that it was inhabited by an intelligent lifeform. He declared Mars' tilt to be 30 degrees, which is very close to the actual tilt of 25.19 degrees. He assumed that the dark spots in Mars were oceans but later corrected when a faint star passed closely by Mars and its brightness had no effect on the supposed ocean.
The 1800′s was considered as the Canal craze period. When scientist Giovanni Schiaparelli discovered "Canali" in Mars or "Channels", it was mistakenly translated as canals giving the impression that an intelligent lifeform must have built the canals in Mars.
1809 – Honore Flaugergues discovered dust clouds in Mars and later on, in 1813, noticed that the polar ice caps in Mars melted significanlty during the spring. He concluded the Mars is hotter than Earth.
1840 – Wilhelm Beer and Johann Von Maedler observed Mars for periods of 759, 1604 and 2234 days and determined that one Martian day is equivalent to 24hrs 37mins and 22.6 seconds. Very close to the accepted 24hrs 37mins and 22.7second Martian rotational day.
1854 – William Whewell wonders about extraterrestrial existence in Mars and concluded that it has green seas and red land.
1858 -  jesuit monk Angelo Secci created a drawing of Mars and called the SyrtisMajor the "Atlantic Canal".
1862 – Frederik Kaiser calculated the rotatinal day of Mars to be 24hrs 37mins and 22.62 seconds.
1867 – A map of Mars with oceans and continents was published by Richard Anthony Proctor. It was also at this time when Pierre Jules Janssen and William Huggins tried to detect water vapor and oxygen in Mars using a spectroscope.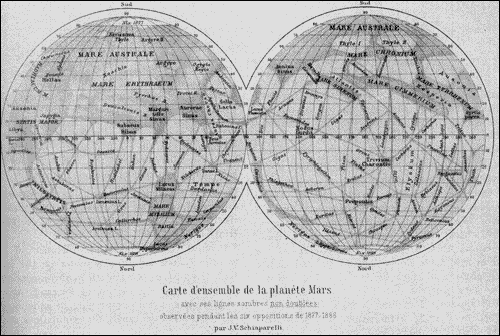 1877 – During the Perihelic Opposition – meaning Mars is at its closest to Earth. Giovanni Schiaparelli drew a map of Mars. He used different terms from history, mythology and terms for hell. Used the term canali to describe the channels on the surface of Mars, which was wrongly translated into canals.
Asaph Hall discovers the 2 moons of Mars and called them Phobos and Deimos.
1894 – Edward Emerson Barnard was observing Mars and found no evidence of a canal.
1895 – Percival Lowell published his book Mars
The 1900′s was a time for big breakthroughs in terms of science and exploration. Our continued search for knowledge has led to discoveries that corroborated the findings of scientists of the past. The advancement in technology made us more curious and we were no longer contented with observing the stars and the planets through a telescope, we wanted to fly to the sky and take close-up pictures of Mars and the other neighboring planets. That dawned a new age of discovery and the Mariner series of exploration spacecrafts was born.